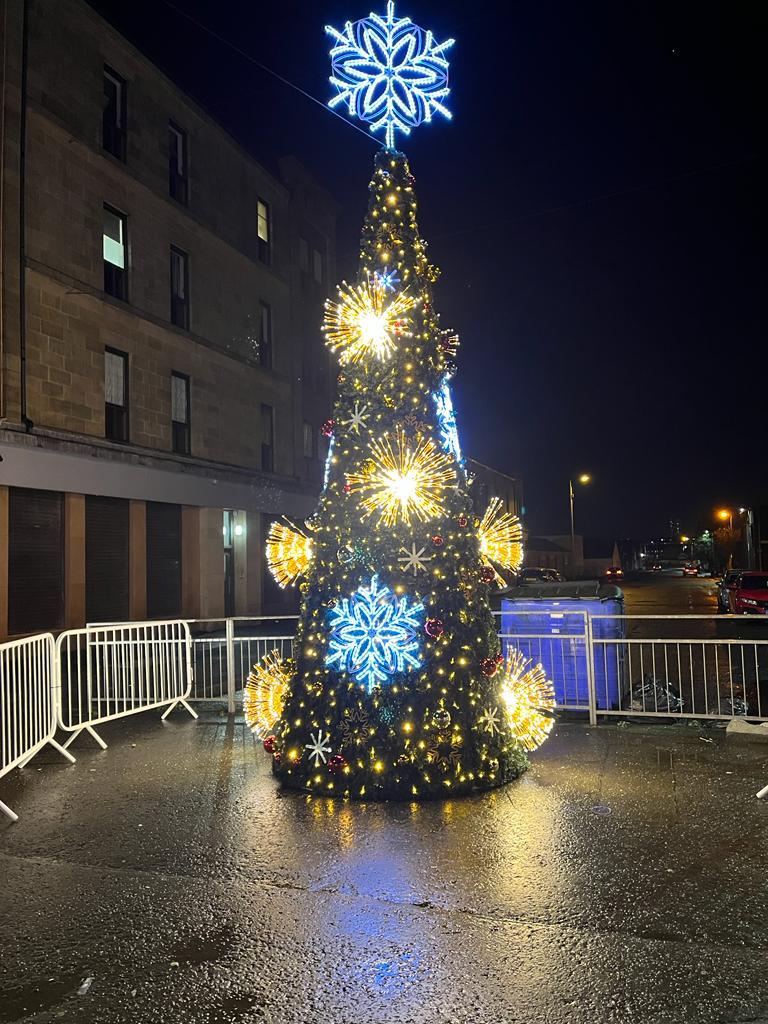 Possilpark Business Improvement District (BID) lit up the heart of the area with a brand new six metre high Christmas tree, generously financed by Possilpark-based, Allied Vehicles, ng homes and the BID. 
This was complemented by a new creative lighting scheme organised by Possilpark BID with financial support from Glasgow City Council's Canal Area Partnership.
Blachere Illuminations supplied all lighting, which ensured the area's Millennium Square was elegantly illuminated with fairy lights on trees and coloured up-lights on the historic Saracen Drinking Fountain, a monument to the local Walter McFarlane Foundry.
Additional festive and branded projections wished everyone on Saracen Street a Merry Christmas!
Working in partnership with the community – in a dedicated group called Possilpark Loves Christmas – a programme of free events for all ages was put in place early in December. The programme included Santa's Saunter around the neighbourhood, a Christmas village on Millennium Square and a family-friendly Christmas Activity Centre in Possilpark Parish Church.
The festive programme has gone down well in the community, local people are saying: 'amazing', 'looks fantastic', 'the best I've seen in years', 'it's beautiful', 'well done Possilpark', 'the lights on the trees too, brightening up Saracen St… lovely'.
Brian Kelly, Chair of the BID said, "Both businesses and communities work especially hard together at Christmas to bring activity and lighting to the dark nights. It's really great to see these fabulous results and we give special thanks to the traders for their contribution."
Gerry Facenna, Chair of the Allied Vehicles Group said: "Allied Vehicles has been a mainstay of Possilpark for almost 30 years. I was born and raised here and I am proud to be very active in the local community. I hope the lighting and the tree will bring a smile to people's faces as Christmas fast approaches."
Margaret Fraser, Depute Director of Regeneration with ng homes said, "We are pleased to contribute to the festive events in Possilpark this year as we have also done in previous years. I'm delighted to see such a glorious tree, bigger than ever! We are sure it will bring plenty of Christmas cheer."